Highly Recommended !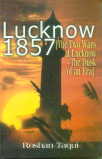 2001, xvi, 297 p
New Royal Book Co.
Publishers, Booksellers
& Library Suppliers,
Shah Business Center,1st Floor
32/16, Valmiki Marg, Lalbagh,
(Opp. PMG Office)
Hazratganj, Lucknow - 226 001
Tel: 0522-285607
Lucknow 1857 - The Two Wars at Lucknow - The Dusk of an Era
Roshan Taqui
The state of Avadh, the biggest of its time, was annexed by East India Company in January, 1856 and a general rebellion provoked. The rebellion, as per vox populii, was started on 10th May 1857 from Meerut. This book with the help of original references and contexts reveals that the war of independence was started on 3rd of May 1857 from Lucknow only. The period from January 8th 1856 to May 3rd 1857 was very important considering as the prelude period of war of independence. For the first time some important factors and incidents of that period have been discussed in this book.
That was the period of character assassination. The agents of East India Company, with their wilful words used derogatory remarks against the freedom fighters and tried their level best for their character assassination. "They were all wrong" has been shown in this book. The datewise history from 1st January, 1857 to 31st December 1857 has finally been written in this book. The loot of Avadh from March 1858 onwards shows that invaders were only looters. Some light on the characters and personalities of Begum Hazrat Mahal, Raja Jia Lal and other soldiers has also been thrown to show that they were the lodestar of the First War of Independence.