Highly Recommended !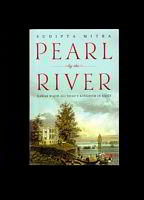 2017, 237 p
Rupa Publications India Pvt. Ltd 2017
7/16, Ansari Road, Daryaganj,
New Delhi - 110 002

"Pearl by the River"
Nawab Wajid Ali Shah's kingdom in exile
Sudipta Mitra
History emerges with clarity in retrospect. Events become significant only when one peeps into the past. Perhaps no one had anticipated that the exile of Wajid Ali Shah, King of Awadh, would eventually lead to a cultural and aesthetic renaissance in Calcutta
Wajid Ali Shah reached the banks of Hooghly on 26 May 1856, following a long and weary journey of three months. But destiny was not kind to him and soon he was arrested and placed in Fort William by the British Government. After being in custody for twenty-five months the former King was eventually released. But a twist of fate had changed his path and taken him away from a life of luxury to austerity.
It is difficult to decipher the real man from all that has been written about the Nawab. With a prologue by Dr. Meerza Kaukab, the great grandson of Wajid Ali Shah, Pearl by the River elaborates on how the seeds for an enriching, artistic and intellectual life for Calcuttans were sown on the day Wajid Ali Shah stepped into his caravan for his life's last journey to the then capital of colonial India.
The book is,
A tribute to all the great souls resting in eternal peace underneath
the marble floor of Sibtainabad Imambara, Metiyaburj.
Inauguration of the Book at THE TOLLYGUNGE CLUB - Kolkata
Jan 28th 2017

Mr. Indrajit Mookherjee, President of Tollygunge Club and Dr. Kaukab Qudr Meerza
unveil the book followed
by a speech by Dr. Kaukab Qudr Meerza (2nd from left) and Mr. Indrajit Mookerjee (4th from right). The author Dr. Sudipta Mitra is standing 4th from left.